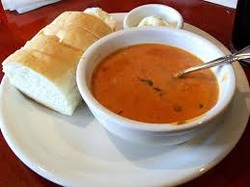 Soup Supper -- All are welcome

December 6, 2015, Second Sunday of Advent, IIC, 1100 W. 42nd St, 1st floor
Mass: 5 pm, followed by supper Parking in back; enter under the green canopy

Soup, utensils, and drinks will be provided. Please bring a salad, bread, or dessert to share.





---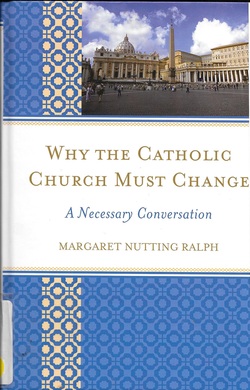 Sunday, March 8, 2015
2 to 4 pm
Noted author and lecturer to speak in Indianapolis
Sunday, March 8, 2015, 2-4 pm Dr. Margaret Nutting Ralph, Ph.D., noted author, lecturer, and director of the Master of Arts in Pastoral Studies degree program for Catholics at Lexington Theological Seminary will speak on her latest book Why the Catholic Church Must Change: a Necessary Conversation.
The presentation will be held in the Krannert Room, second floor, Indiana Interchurch Center, 1100 W. 42
nd
St. Indianap-olis, IN 46208. For more information contact Barbara Pfeifle, 859-221-3161 or Barbara.pfeifle@gmail.com
Copies of Dr. Ralph's books are available from the Indianapolis Public Library
and on Amazon.com
Dr. Ralph is the author of fifteen books including the best seller And God Said What? An Introduction to Literary Forms in the Bible and Breaking Open the Lectionary for cycles A, B, and C.
---
PINK SMOKE OVER THE VATICAN MOVIE SCREENING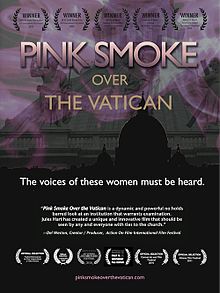 @->--PUBLIC INVITATION --<-@

You are cordially invited to join us
for a showing of the award-winning film:

PINK SMOKE OVER THE VATICAN
November 3, at 3:30 PM
at the Indiana Interchurch Center,
2nd floor, Krannert Room,
which is fully accessible.*

*Enter building from rear parking lot entrance with cover over sidewalk. Walk straight ahead to elevator, take to 2nd floor, turn right. Handicap accessible on 1st floor close to elevator.


"PINK SMOKE OVER THE VATICAN is a dynamic and powerful no holds barred look at an institution that warrants examination. Jules Hart has created a unique and innovative film that should be seen by anyone with ties to the church." - Del Weston, Creator/ producer, Action on Film International Film Festival

"... an engaging, touching, and surprisingly humorous expose' of one answer to a serious question: Where is the voice of women in the Roman Catholic Church?" LamorindaPatch

Roman Catholic Womanpriest Maria Thornton McClain will lead a 15 min. Q & A session after the film. Mass will follow at 5 PM. All are welcome to join us and receive the Eucharist. Maria and members of the St. Mary of Magdala Catholic Community will also be available after Mass to answer questions. Donations will be accepted to help defray the cost of production and distribution of the film.
---
---
Sunday Mass:


1st, 3rd, 5th Sundays of the month, 5:00 p.m.

Indiana Interchurch Center
Krannert Assembly Room, 2nd Floor
1100 W. 42nd Street
Indianapolis, IN 46208

Handicapped accessible.


Pastor's Hours:


Maria has office hours on Tuesdays and Wednesdays, from 1 - 5 p.m. You may call 317-888-6026 or

email Maria

to schedule an office appointment or home visit.

Any changes to Maria's regular office schedule will be posted in weekly bulletins. If you do not receive our e-bulletin, please sign up

here

!

See other important dates on our Google calendar, below!
---
SMMCCY INDY COMMUNITY CALENDAR